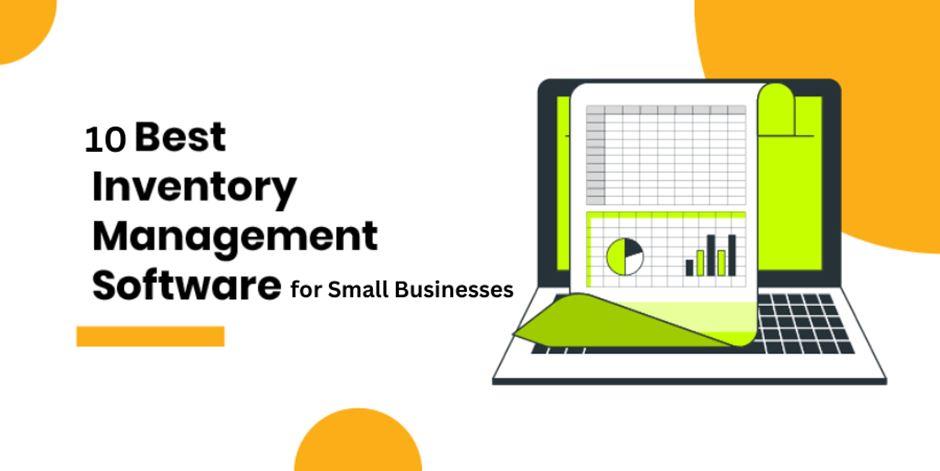 Retail and supply chain business companies must streamline their everyday operations with the help of the correct tools. Depending on the business model, a company chooses appropriate inventory management software such as Point-Of-Sale(POS) software, Enterprise Resource Planning(ERP) system, etc.
When it comes to small businesses or startups, companies might have different approaches due to size, growth, and budget. However, inventory management tools are powerful for keeping a record of the process of business products – from production house details to customer delivery status. Inventory Management Software can handle repetitive tasks with such brilliance that it improves cost-effectiveness and employee productivity.
Therefore, this article will introduce the top 10 inventory tools to help you choose relevant technology for your unique business type.
Which Are The Top 10 Inventory Management Tools For Small Companies?
Inventory tools that offer a free version or have a minimal subscription charge can only fit small companies or startups. Based on business activities and customer interaction, owners can evaluate the following list of inventory software for startups or small organizations.
1. Zoho Inventory
This cloud-based inventory management tool is ideal for small companies because of its customized end-to-end inventory tracking capabilities that come free with the basic package. Besides being free, Zoho inventory also offers multi-channel management across the globe.
Inventory control management, purchase and order management, warehouse management, analytical reports, barcode scanning capabilities, workflow automation, creating invoices, accepting online payments, tracking expenses, and reporting are some of the highly used features of Zoho inventory management software.
Zoho motivates startups and small firms by providing them integration on several ecommerce platforms with an account on the Shopify store, updated client portal, listing of composite items, and single warehouse management with two users. The system keeps track of 50 products and 50 after-shipment orders and generates 50 shipping labels every month as a part of the order management process.
2. Odoo
Odoo is one of the best options when a growing business requires project management, CRM, ERP-suited inventory management tools, and business management features simultaneously.
The highly customizable feature of the software makes it more appealing to small businesses with multiple locations.
This inventory management software offers multiple warehouse management, complete material resource planning(MRP), inventory optimization, customized reports, analytical forecasting, order management, etc. These features make it super convenient for retail and supply chain business owners to handle their companies without any errors in mundane tasks.
3. Rightcontrol
When small ecommerce businesses are limited to one warehouse Rightcontrol inventory management tool is the right fit.
This system allows small businesses to easily include new products, barcode scanning, tracking products, etc.
This inventory management executes excellent warehouse management, inventory optimization, stock management, order management, product identification, listing, etc.
4. ABC Inventory software
Small retail business owners widely use ABC inventory management software for its multi-channel management with intelligence and automation.
This comprehensive inventory management software includes several tools and multi currencies support.
ABC Inventory software facilitates inventory control on multiple locations, inventory valuation with LIFO and FIFO, warehouse management, sales records, POS, CRM, accounting, reporting and analysis, automation for repetitive tasks, etc., to create a seamless pathway for small firms.
5. Stockpile
Stockpile is famous for its unlimited user or a product feature and is specially designed for small companies with solid support systems.
This free and online inventory system provides basic inventory management, purchase order management, multiple currencies support, tracking SKUs and UPCs, stock alerts, reporting, minimum stock counts, inventory transfer, etc., to expand small activities.
6. PartKeepr
This system is an open-source inventory software, keeping it agile for customizations. In this sense, the developers keep adding features in PartKeepr to make it more adaptable.
This free inventory tool takes care of inventory management, vendor management, FIFO, LIFO, systematic product and order management, multiple warehouse management, analytical reports for cost-effectiveness, product tracking, etc. These features allow companies to focus on more critical activities.
7. Delivrd
Delivrd cloud-based inventory management software is available for a basic price of just $1.99 for a single inventory location, which is why it is ideal for businesses focused on certain products.
This system prepares product catalogs, SKUs, order tracking management, transaction history of inventory, etc., to improve accuracy in startups and small organizations, especially in retail and ecommerce industries.
The free package of this software enables features like 3rd party integration, solutions for cost-effectiveness, record of inventory transactions, email support system, automated product reorder management, purchase and sales management, profit and loss analysis, and inventory management of a maximum of 5 products.
8. ProfitBooks
With the help of ProfitBooks, startups can enter the international business market with the currencies support system.
The cloud-based inventory system can easily produce financial reports and invoices, conduct supply and inventory management, track purchase & sales transactions, record income and expenses, accept online payments, and handle taxes.
This free online inventory management software is packed with powerful features that allow companies to eliminate errors that otherwise occur while manually maintaining and improving efficiency. ,
9. SalesBinders
SalesBinder is best for small international companies as it allows them to expand and grow in a very reasonable price package. There is a free version for one user account with up to one hundred records.
The basic version of this tool includes inventory management tools that come with a barcode scanner, an unlimited number of location control, purchase order history, tracking shipments, forecasts, and reports, cost estimations, stock transfer, API access, purchase and sales orders, generation of barcode and invoice, facility to access the tool via its mobile application.
10. UpKeep
UpKeep is gaining popularity among startups and small businesses as it provides multiple management skills and an active customer support system.
Inventory tools, reporting, analytical documentation, equipment maintenance, cost tracking, compliance management, etc., features of UpKeep provide agility to the companies.
Asset operations management, inventory management and optimization, property management, facility management, cost management, and CRM management are some of the prime features of this software, allowing it to have a firm grip on the small business market.
The Takeaway
A robust inventory management tool acts as a backbone of a company. These tools eliminate the headache of manually producing spreadsheets, graphs, charts, market analysis, sales, purchase reports, etc., and make employee work effortless.
Depending on the various aspects of your business, you can choose the most optimal software to save time and money.  Hopefully, this article has given you enough information on various free inventory management tools to determine the most suitable software for your business.
https://www.area19delegate.org/10-best-inventory-tool-for-small-businesses/AdminBusiness
Retail and supply chain business companies must streamline their everyday operations with the help of the correct tools. Depending on the business model, a company chooses appropriate inventory management software such as Point-Of-Sale(POS) software, Enterprise Resource Planning(ERP) system, etc.
When it comes to small businesses or startups, companies might have…
AdminHarry
Jadon[email protected]AdministratorThanks for reading this article. You can subscribe for regular update about technology news and tips via RSS Feed. You can also follow us on Facebook & Twitter .Thanks for visiting!Area19Delegate